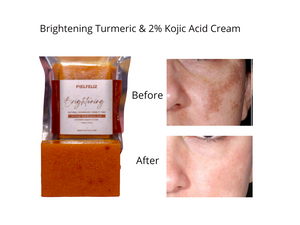 Piel Feliz
Turmeric & Kojic Acid Hyperpigmentation Reducer & Acne
Regular price
$9.99
$0.00
Unit price
per
Are you suffering from uneven skin tone and looking to brighten the skin?

Turmeric has been used for centuries for its medicinal properties. This spice has very powerful anti-inflammatory properties which help decrease inflammation, reduce redness, and soothe irritated skin.

Kojic Acid is a chelation agent produced by several species of fungi which help brighten sun damage, age spots and uneven skin complexion.

This bar has 2% kojic acid which helps prevent the formation of dark spots.

Lactic Acid is great at increasing cell turnover which helps eliminate the build up of dead skin cells on the epidermis. This helps keep the pores clean and free of any debris and bacteria. Lactic acid also allows your skincare products to absorb better and evens your skin complexion.
Aloe Vera Base, Rosehip Oil, Kiaolin Clay, Turmeric Extract, Kojic Acid, Lemon Peel Essential Oil, Turmeric Essential Oil, Vitamin E, Germaben ll, Lactic Acid
***How to use
The Kojic Acid Soap should be used day and night. Start by rubbing bar between wet hands for 5 seconds to get a nice lather going. Gently massage the foam into your skin for a few minutes to soften up the pores, then rinse the skin.

***Can be left on the skin for for 2-5 to allow the skin to absorb the ingredients
---